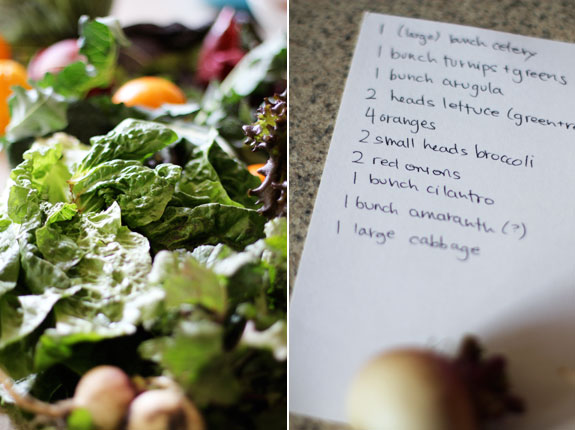 Where did the week go? And perhaps more importantly, where did all the vegetables from my CSA box go? Time for the truth: what I ate and how I ate it (or didn't eat it) over the past week and a half.
The large bunch of celery became a surprisingly satisfying celery, apple and walnut soup that I'll definitely be writing up as a recipe soon. The best part was it used up all the celery leaves, which were plentiful.
I simmered the small bunch of turnips in a Japanese-ish sauce made with water, soy sauce, mirin and a little sake, which cooked down to a glaze by the time the turnips were done. I ate them on a salad, which put a small dent in the head of red lettuce.
I roasted the broccoli with shiitake mushrooms. Tossed with oil and salt and roasted in a 425° oven for 20-30 minutes until browned and crispy, this was dinner, along with brown rice and a Thai omelet. I ate the leftover broccoli and mushrooms as a snack the next day instead of the salt and pepper potato chips I was craving. With my fingers, to make it a little less virtuous.
By the way, ROASTED BROCCOLI LEAVES. Crunchy and toasty and almost as good as salt and pepper potato chips when they're right out of the oven. Seriously.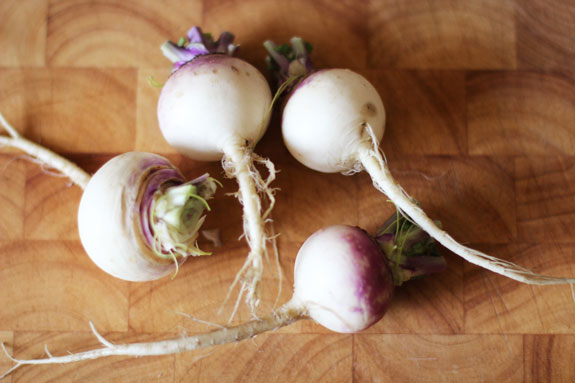 I chopped up the red mustard leaves and added them to some leftover chicken and rice soup. I love adding greens to soup — even bagged arugula or frozen spinach work — although red mustard is definitely a cooking-for-myself-who-cares addition, because it turns the soup a deep purple. Mustard is one of those greens that can be unbearably bitter unless boiled, and eating it in a soup ensures you get all the nutrients that would normally be dumped out with the blanching water.
Half the cabbage was cut into 1-inch chunks and roasted like the broccoli, until it was soft and crispy and sweet. Can you tell I like roasting any vegetable I can get my hands onto? The other half of the cabbage awaits its fate in the fridge. Probably a future salad, with or without smoked fish.
The arugula was, as far as I know, tucked into prosciutto sandwiches and eaten by Rob.
A small portion of the cilantro was chopped up and used to marinate fresh sardines. After the sardines were grilled, more cilantro and some of the romaine leaves were rolled into rice paper wrappers with the sardine fillets. As a dinner, it was just okay. I'm still figuring out fresh sardines.
The 4 oranges were peeled and eaten, happily.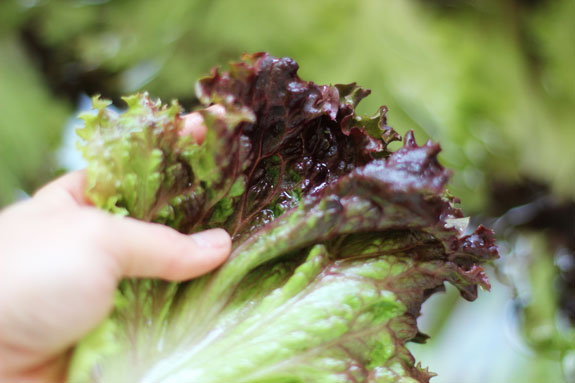 Where I really dropped the ball was on the lettuce. I just don't make many salads at home, especially at this time of year, when I like turning on the oven because that is the only way my frigid kitchen will warm up a little.
I'm also not a fan of raw onion, so I haven't used either of the red onions yet, but they'll keep long enough for me to caramelize them or otherwise transform them into something I want to eat.
I never expect to use up all the cilantro when I get a bunch because Rob is one of those weirdos who thinks it tastes like soap. Yes, I've heard it might be genetic and yes, I've heard Julia Child hated cilantro too. He's still a weirdo.
What would you do with a mountain of lettuce? And are there any vegetables that you never know what to do with?
{ 2 Comments }
{ Leave a Comment }