Now that school is over for the summer, I finally have time to go through all my photos and notes from the press trip to Lebanon I took this spring with Taste Lebanon. I'm so happy to share this incredible trip with you. Up first: my favorite meal of the day, breakfast!
It wasn't hard to fall in love with breakfast in Lebanon. Here is what is almost always on the table: a bowl with a thick swirl of strained yogurt called labneh, topped with a golden cap of local olive oil. A plate of tomato wedges, cut-up Persian cucumbers and sprigs of fresh mint. Olives, salty and strong. Slabs of brined feta cheese. Fresh flatbreads. Savory and satisfying but not heavy, it was pretty much my perfect way to start the day.
Especially when you start adding in some of the extras I got to try.
In Beirut we stopped at Ichkhanian Bakery for lahm b'ajeen, a sort of thin, crispy pizza topped with ground, spiced meat. It was a veritable lahm b'ajeen factory in there, with one man rolling out round after round of impossibly thin dough while another covered each round evenly in the meat mixture. A third lifted the pies onto a peel and thrust them into the fiery oven, then pulled them out when they were browned on top and crisp on the bottom. The youngest of the group squeezed fresh lemon juice over the steaming pies, rolled them up in a twist of white paper and handed them out under the watchful eye of the bakery's matriarch. With a cool bottle of a slightly salty yogurt drink called ayran, they went down fast, and I can see why they are also a popular late-night, post-drinking snack.
One morning on our way out of town we dropped by a shop brimming with baklawa of all shapes, piled up like pistachio-studded jewels on big platters. But we were there for the knefeh, a semolina-crusted cheese flavored with sour cherry pits, served warm, stuffed into a sesame bread called ka'ak and drizzled with a little sugar syrup. It was sort of the Lebanese version of a bagel sandwich, but with the unusual, almond-like flavor of the sour cherry pits (mahlab).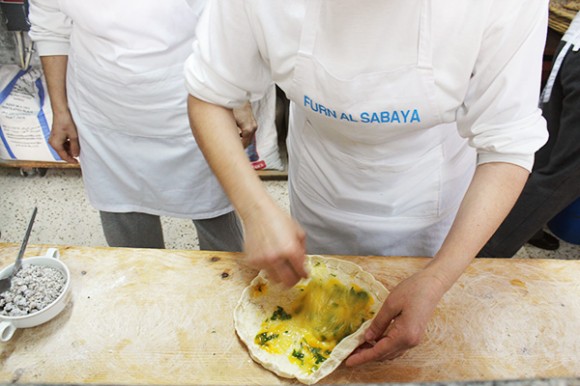 One of my favorite breakfasts was at a bakery called Furn al Sabaya ("Bakery of the Ladies"), a little shop owned by three sisters who sweetly and deftly churned out an array of breakfast treats: a baked egg pastry that was like the delicious bastard child of a quiche and a pizza; flaky, palm-sized pastries stuffed with greens; a beautiful rolled pastry filled with walnuts, almonds, cinnamon and rosewater; and a simple flatbread breakfast wrap filled with labneh, tomatoes and mint. Sitting in their sunny patio decorated with flowered tablecloths and colorful curtains, sipping Nescafe and munching on perfect pastries made by three smiling sisters, I felt like I had stepped into a fairy tale. It was hard to leave.
It was hard to leave. If this trip had a motto, that would be it.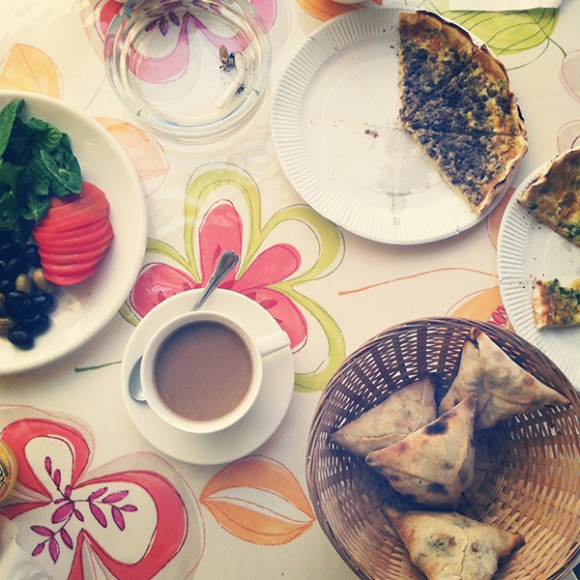 Read more about my trip on The Kitchn:
{ Leave a Comment }