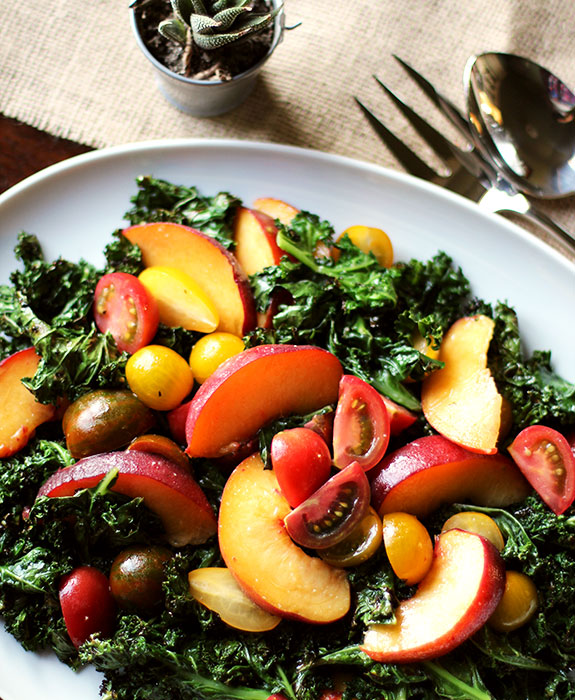 Remember when kale leaves were just decorative accents in between the bowls in a salad bar? Nobody ate them. Sometimes they were even fake. But then — perhaps in a fit of monotonous midwinter vegetable insanity — people started playing around with kale. Baking it into chips. Rubbing it raw with a lemony vinaigrette. Whizzing it into green smoothies. Falling in love.
Now it's time to jump on the bandwagon of the newest kale trend: grilled kale. It's summery, it's smoky, it's crispy and charred and tender and it'll make you fall in love with kale all over again.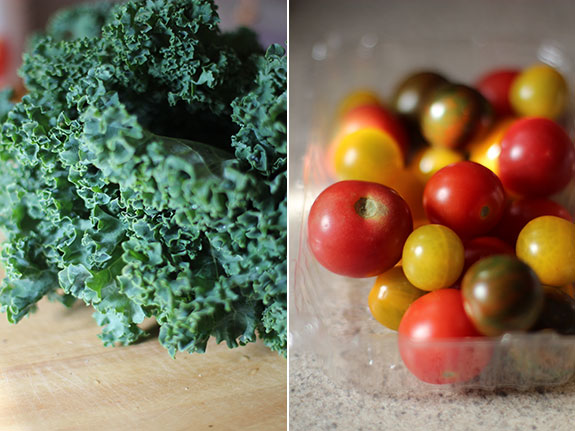 Grilled kale leaves tossed with a little oil, salt and lemon or lime juice are addictive enough on their own, but the things you eat with your fingers while standing barefoot in the kitchen aren't always what you want to bring to a dinner party. For that, you might want to add chunks of ripe peach, tart cherry tomatoes and a salty miso-lime dressing, which makes the plate of charred greens much more presentable and even more tasty.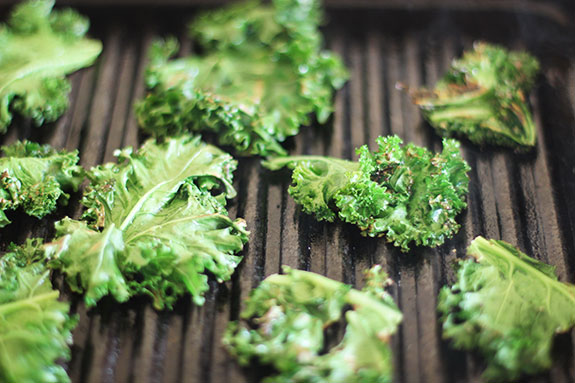 I grill my kale leaves on a grill pan, which gets very smoky; open up all the windows and turn on a fan if you go this route. On the plus side, you can cut the leaves into bite-size pieces before grilling without worrying about them falling through the grates. If you're lucky enough to have an outdoor grill, use whole leaves and either cut them up after grilling, or plan on eating the salad with a knife and fork.
This miso-lime-walnut oil dressing is one of my favorites for any type of grilled vegetable. It's tart and salty in a way that complements the smokiness of grilled summer squash, scallions, carrots, anything really. It also magically makes peaches taste faintly like mango. Even if kale leaves you cold, give the dressing recipe a try.