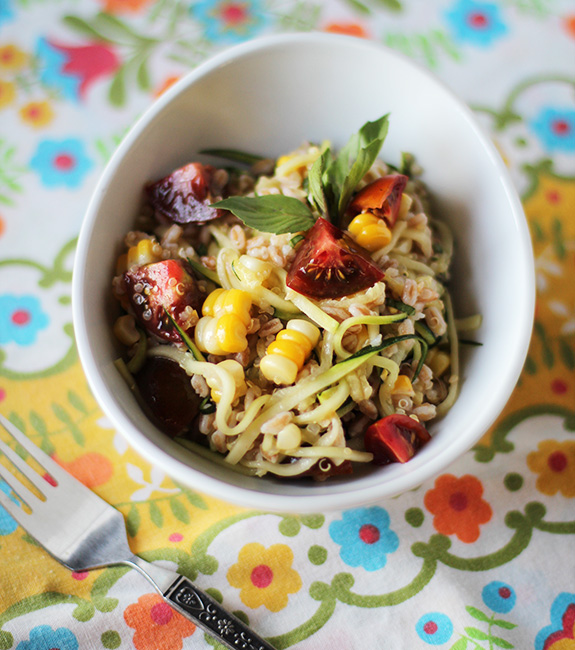 If there was ever a time to stop by a farmers market or join a CSA, this is it. Sweet corn, zucchini, eggplants, peppers, basil are cheap and plentiful and so much better than the sad plastic-wrapped versions you'll find at Trader Joe's. And because everything tastes so good, it takes almost no work to turn it into a quick grain-based salad full of bright colors and crunchy-chewy-soft textures.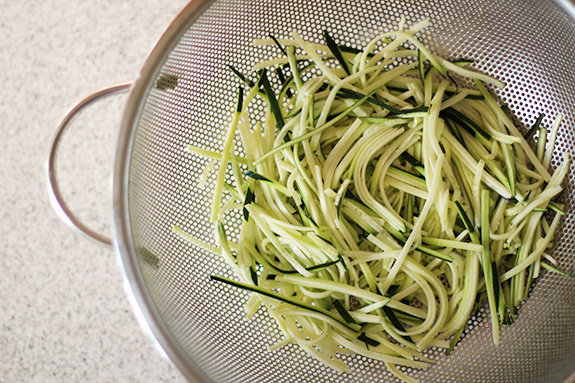 My obsession with grain salads has been going strong for the last couple years, to the point where I actually have to tell myself, Do NOT make a grain salad! when pondering my dinner options. I can't help it: they're quick, adaptable, easy to load up with vegetables, and make good lunch leftovers the next day. You can eat them warm or cold. You can eat them in a house. You can eat them with a mouse. Box, fox, here, there, anywhere. I love them.
This particular salad uses a little of everything from my late-summer vegetable drawer, mixed with a lemon dressing made with avocado oil. The zucchini is prepped in my favorite way: sliced into shreds and tossed with salt to draw out some of the moisture, giving it a ton of flavor and a still-crunchy texture. The corn is cooked in its husk in the microwave, a new-to-me method that takes less than 5 minutes and has replaced my usual boiling-water bath.
And the grain I happened to have on hand is an odd find — pearled farro, which is a quicker-cooking (and less nutritious) version of farro, a type of wheat. I didn't have a full cup left when I made the salad for these photos, so I supplemented with some quinoa. Feel free to use whatever grains you have on hand, though the size and texture of grains like barley and farro seem particularly well-suited for this combination.
Play around, use what you have on hand, add a little crumbled feta cheese if you're feeling crazy and watch out. Because you just might get addicted to grain salads too.