I ended up going to college about 25 miles from where I grew up — not what I had planned, but at least it meant I could go home for Thanksgiving with a minimum of hassle. Until my mom and stepdad moved to India for three years. After that, my Thanksgivings stopped being traditional for the most part.
I had one Thanksgiving with two cousins, newly immigrated from Thailand, who each tried one bite of the food before dousing their entire plates in Thai sweet chili sauce. I spent two Thanksgivings in Japan, surrounded by a giant crowd of homesick Americans and their cobbled-together nostalgic recipes made with Japanese ingredients. And I've had a couple "orphan" Thanksgivings with friends who aren't going home for the holiday, my plan again for this year.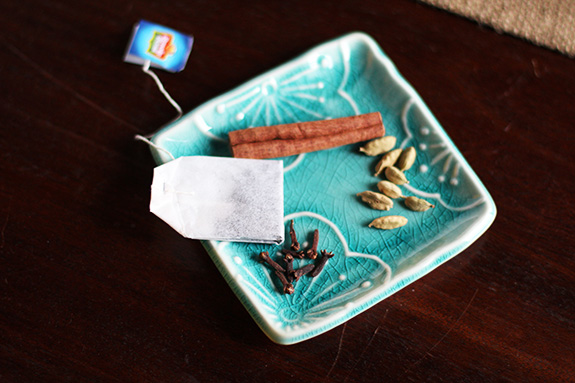 Except it's starting to feel less like an orphan Thanksgiving, this day spent surrounded by some of my favorite people, and starting to feel more like a tradition in its own right. What is a tradition? There's no mention in its definition of having to be blood related.
There's also no mention of marshmallows, which is why I firmly believe sweet potato recipes can become traditions without them. This recipe was inspired by Paula Deen, of all people. At an orphan Thanksgiving a couple years ago, my friend Beth made Paula's Ol' No. 7 Yams, which glazes roasted sweet potatoes with a mixture of butter, brown sugar and Jack Daniels. The recipe used, as Beth noted, a not-too-shocking amount of butter for a Paula Deen recipe and turned out to be completely delicious. I may have had fourths.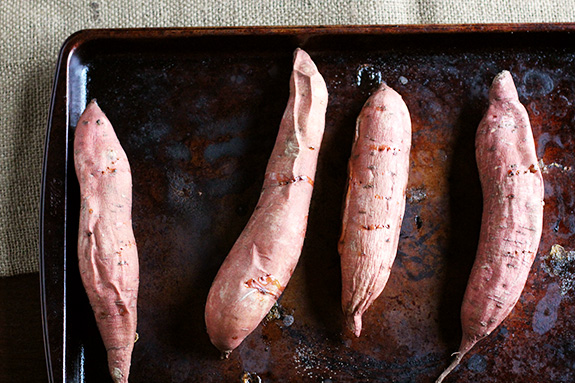 My version swaps out the butter for a little coconut oil, and flavors the glaze with black tea, cinnamon, cloves and cardamom, the spices traditionally used to make chai tea. I also use a lot less sugar than ol' Paula, just enough to cut the bitterness of the tea and play up the roasted sweetness of the potatoes. After simmering for about 20 minutes, the finished glaze is mellow but still quite thin, so don't expect a sticky-sweet coating. Instead, it's more a fragrant marinade that soaks into the sweet potatoes as they cook in the oven.
This is definitely a dish that can be assembled hours before or even the day before Thanksgiving, and popped into the oven for its final bake just before the meal. No, this recipe isn't traditional — but it might be the start of a tradition for me.
{ read more }