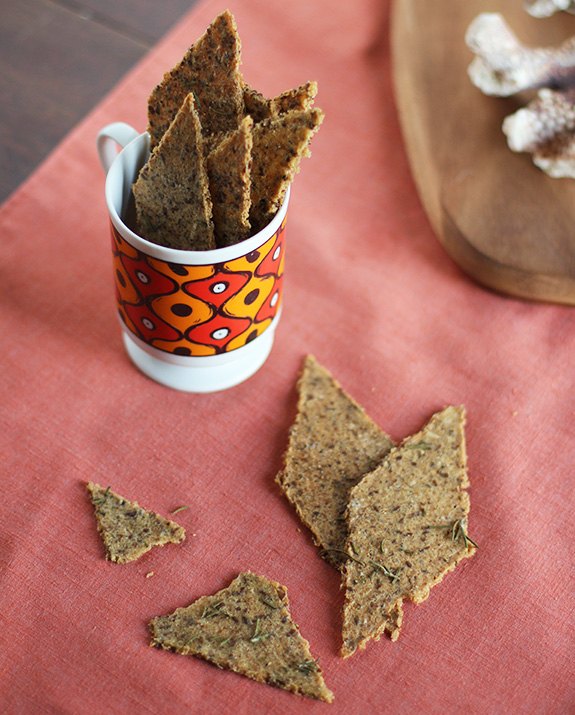 No matter how busy I am, I try to do at least a little holiday baking every year. I love it: the smell of spices, the all-day marathons in the kitchen, the happiness of those receiving the treats. This year I'm feeling more savory than sweet though, and have been browsing through my recipes for gift-worthy snacks that don't involve an avalanche of sugar. These crackers from My New Roots — toasty, crispy, made with brown rice and quinoa — are not only addictively munchable, they are also good for you. And as easy to make as a batch of sugar cookies, I swear.
I've always avoided making crackers because the process always seemed a little fussy and I also have a secret obsession with plain, bland water crackers. I don't need to make my own. The ones I buy at Trader Joe's are fine.
But if you're talking fancy, is-that-seriously-the-price-tag, gluten-free, protein-packed, legitimately healthy crackers — I have no problem giving those a try. I was also intrigued by the recipe, which involves blending cooked quinoa and brown rice in a food processor until it becomes a dough, bound together with soaked flax seeds.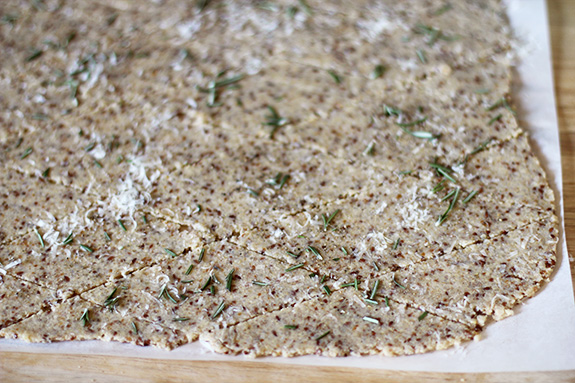 Sarah has a ton of recommendations for flavoring the crackers; I went with fresh rosemary, finely grated Parmesan and black pepper, which also happens to be my favorite popcorn topping combo. Nutty, crisp, and herb-y, they're hard to stop eating, especially the misshapen edges that begged to be munched on as you break up the baked crackers.
Speaking of misshapen, that would be the correct word to describe the majority of my crackers. But that's okay. Packed into a canning jar and tied up with bakers twine, they look appealingly rustic, a savory hippie stand-out in a sea of frosted cookies.
{ read more }