In a world of gluten-free eaters and low-carb enthusiasts, I am totally uncool: I love sandwiches*. Put it in a bun or a baguette or a biscuit (mmm…biscuit…) or a pita and chances are I'll happily eat it.
So my sandwich-loving eyes lit up when I visited Furn Al Sabaya, the magical little bakery run by three sisters I mentioned when talking about memorable breakfasts in Lebanon. There, I watched Martha, Lorenza and Lucie build a simple morning wrap with the distinctive flavors of Lebanese breakfast mezze, with strained yogurt (labneh) spread over freshly-baked flatbread and topped with chunks of ripe tomato and fresh mint leaves. Rolled up and sliced, it was like a Lebanese breakfast burrito, satisfying and easy to eat, but lighter and healthier than the usual belly-bomb.
My adaptation includes crunchy Persian cucumbers, another Lebanese breakfast staple. Honestly, I can't remember if the original also included cucumber. Looking back at my notes, I realize I didn't write anything down about this wrap, although I did just discover some scribbled movie and TV show titles from my fellow travelers, mostly British, whom I asked for recommendations. So I don't know if Martha, Lorenza and Lucie use cucumber in their breakfast sandwich, but I do know that one person in the group liked End of Watch and another thought I should check out Days of Fools and Horses**.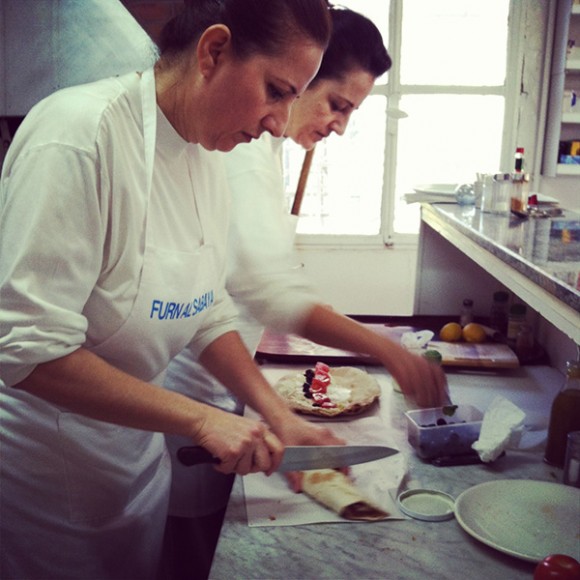 The original wraps. I don't see cucumbers, do you?
I can't comment on those, but I can comment on the addition of cucumber: five stars! Not to be missed! And I'll say the same about this sandwich, which tastes just as good for lunch as it does for breakfast.
{ read more }