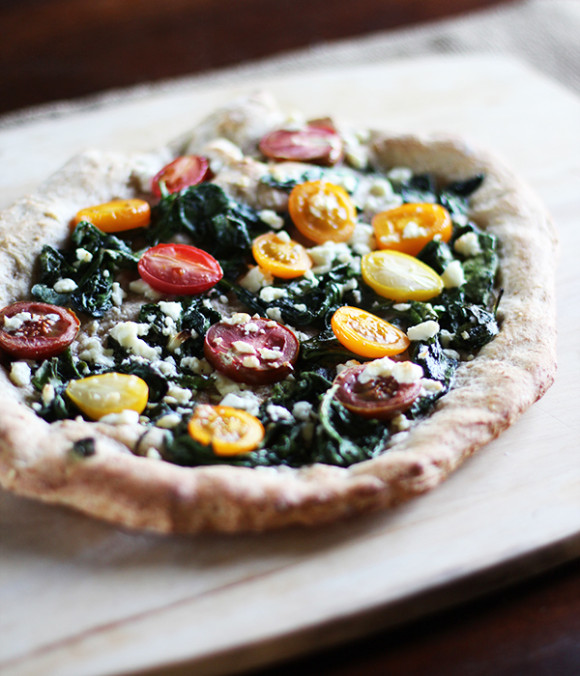 It's a weird time of year to be talking about pizza, I'll admit. If it's hot and humid where you are and you can't even look at the oven without breaking into a sweat, you can either bake your pizza outdoors on the grill or tuck this one away for autumn — it will still be delicious. But here in LA, the June gloom has hung on through July, so cranking up the heat on my oven doesn't feel like such a big deal.
(I won't be saying this in September or October. That's when I get real sweaty and cranky.)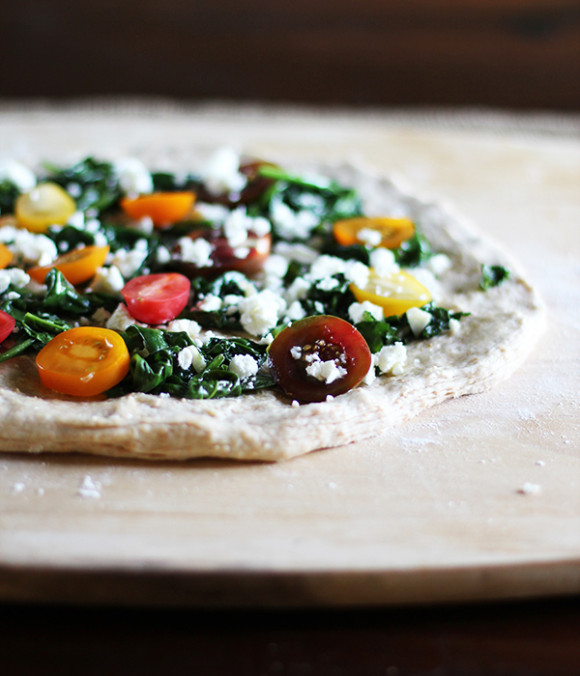 Before it becomes a habit, making homemade pizza feels like a big deal — the yeast, the kneading, the special stone — but once you get the hang of it, mixing up a batch of dough a couple hours (or a day) before dinner time is not terribly difficult. Yet pulling a blistered, browned pizza made with your very own hands out of the oven never fails to thrill.
Pizzas don't have to be dripping with cheese or covered with salty meats; they happen to be an excellent vehicle for all kinds of vegetables and don't need a ton of cheese to be tasty. This particular pie was born on a weeknight when I needed to use up some fading baby spinach and had just stumbled onto a container of forgotten feta in brine at the back of my fridge. I didn't have any tomato sauce, so I just used a swipe of olive oil over the dough to moisten it and arranged some halved cherry tomatoes on top of the spinach, which I wilted with a little garlic.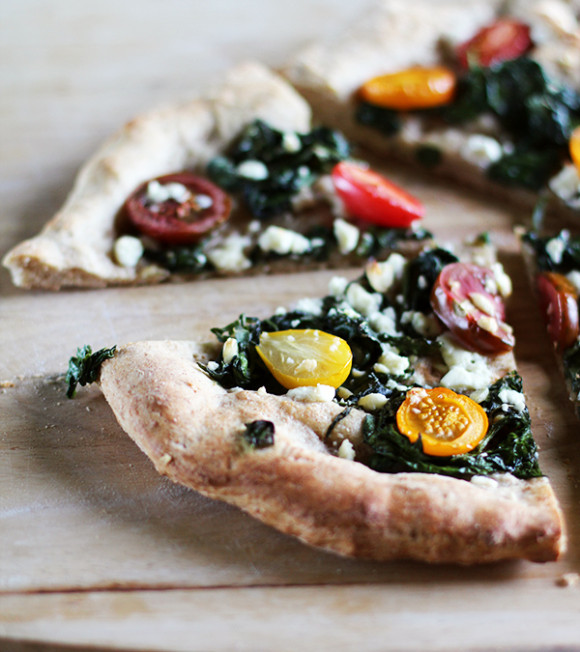 It's simple, very green and was totally worth warming up my kitchen on a not-too-hot day. And since my Whole Wheat Pizza Dough recipe makes two balls, you'll have a second one left over for dinner the next day. Should you be in the mood for something a little more cheesy and salty, I'm a fan of crispy prosciutto and arugula.