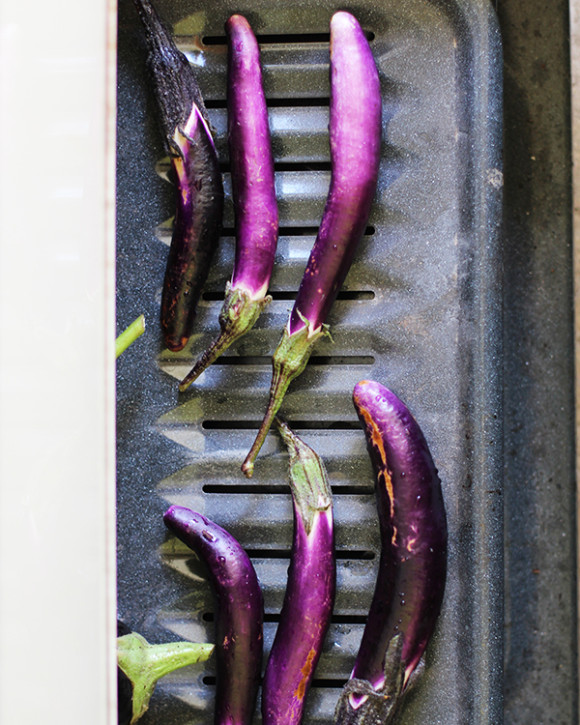 As far as I'm concerned, there is only one way to cook eggplants and it is in the broiler. (And okay, fine — I also like them grilled.) No pre-salting, no slicing, you just chuck them whole into the broiler, turn them occasionally, and they emerge papery-skinned, soft and caramelized, ready to be peeled and eaten warm or cold.
I learned the technique from a recipe in Elizabeth Andoh's Washoku, which tosses the broiled eggplant strips with a salty soy sauce dressing, grated ginger and lots of chopped green herbs. It's fantastic, but it isn't the only way to eat broiled eggplant. Any vinaigrette or dressing will soak into the eggplant chunks, sneaky sponges that they are, and transform them into something irresistible. (Even for eggplant haters like my mother, who loves the broiled eggplant with ginger and herbs.)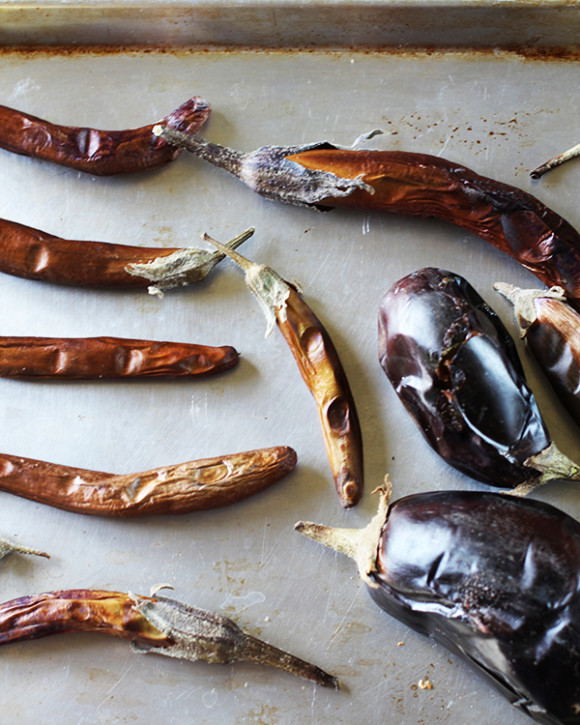 I prefer using skinny eggplants like Japanese or Indian varieties, which are less seedy and bitter than the round globe eggplants. They also broil up faster, usually in ten minutes or less. Globe eggplants can still be cooked in this way; they will just take longer to cook through and you are limited by the height of your broiler, particularly if you have an under-stove broiler drawer like me.
I turned this batch of broiled eggplant into a cool, creamy salad by tossing it with yogurt-dill dressing and chilling it in the fridge. (I used the dressing from this salad mixed with about 1 tablespoon of minced fresh dill.) It's not terribly pretty to look at, but broiled eggplant is never going to win beauty contests. I love it anyway.