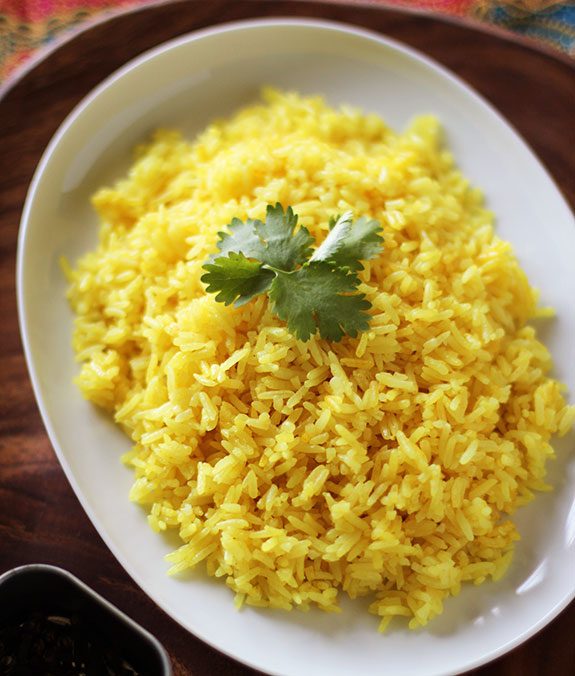 You guys, I feel really bad. I gave you a recipe for spiced lentils and promised to give you the recipe for yellow rice to go with it, and some of you* went out and immediately made the lentils. Without the yellow rice. You need the yellow rice.
So here it is, too late for yesterday's dinner, but hopefully you liked it enough to try to again. And I'm sorry for depriving you earlier.
This rice recipe originally came from an Indian cookbook by Madhur Jaffrey that I bought at a thrift store many years ago. I think I picked it quite randomly, but it it so good, I've made it at least once a month ever since. Though the recipe is Indian, the rice also goes well with Mexican-style food, so I sometimes top it with cumin-spiced black beans and salsa, or put it in burritos.
To make it even more international, I make it with Thai jasmine rice, since that is the white rice I always happen to have on hand. I've thought about trying it with brown rice, but haven't yet gotten around to it. With white rice, it takes all of 20 minutes to make, the rice bubbling in a pot with a cinnamon stick, a few whole cloves, a bay leaf and some bright yellow turmeric. After steaming, a little butter gets stirred in — you can use olive oil to make it vegan, but I strongly encourage the use of butter if possible — and you have a fragrant pot of bright yellow rice that is so much more than just plain rice.
Now go make some lentils and yellow rice already.
* At least three of you. I think that officially makes mujadarah the most popular recipe on this site. I knew it was special.