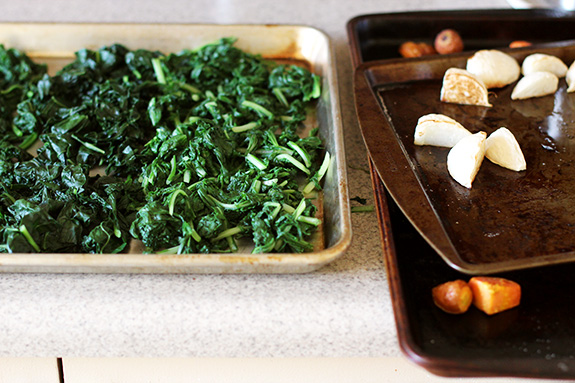 The holidays. They're here. Has it already begun for you, the rush of parties, post-work shopping, travel prep, cookie-dodging? I've been deep in it for a couple weeks, thanks to finals and the fact that Rob and I will be leaving town early this year so we can spend a week with my family in Seattle before Christmas week with Rob's family in Massachusetts. Fun! Or it will be, in about a week.
So, you may ask, with all the rushing and the wrapping and the stuffing of peppermint bark into gaping mouths, how does one manage to actually eat in a reasonably healthy way at this time of year? One method that really helps me is not just washing and prepping my vegetables when I get home from the market, but actually pre-cooking them for the week ahead.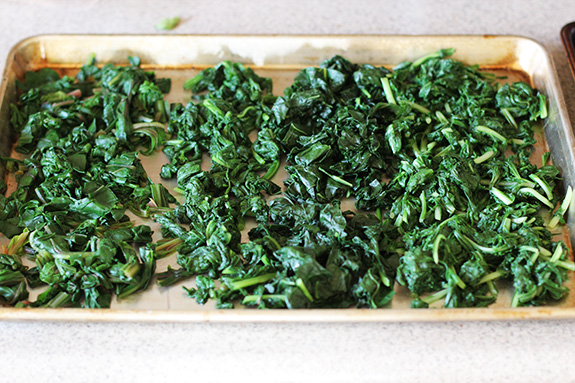 I blanch greens like kale, mustard greens and even beet tops in boiling water for a couple minutes, then squeeze out the excess water, chop them up and spread them on a cookie sheet in the freezer. Once they are frozen, I pack them into freezer bags. (I usually just mix the different types together. The baking sheet above has four different kinds of greens from my CSA box.) They are loose enough that it is easy to pull out a handful to throw into soups, frittatas or spiced lentils whenever I need them. And since they're fine in the freezer for a month or two, they are a godsend on weeks when I am too busy to get to the farmers market, but don't want to forgo veggies.
Hard vegetables like carrots, turnips and squash are tossed with a little grapeseed oil and salt and roasted in a 400°F oven until they are soft and caramelized and perfect for tossing into salads, tucking into sandwiches or just eating plain, warm or cold, over the next five days or so. I was inspired to start doing this last year by the video below from Tamar Adler. Watch it and see if you aren't inspired too.
A couple notes on nutrient loss and pre-cooking: No, your veggies won't be quite as nutritious if they are cut up and cooked several days before you eat them rather than prepped and cooked just before the meal. But the truth is, you'll probably be getting more nutrients because you're actually eating the vegetables, instead of ignoring them because cleaning and cooking them at the end of a long day is too much to even think about.
Also, steaming greens is preferable to blanching because you don't lose water-soluble vitamins. But I don't own a steamer, so I blanch. If you own a steamer, by all means steam!
{ One Comment }
{ Leave a Comment }