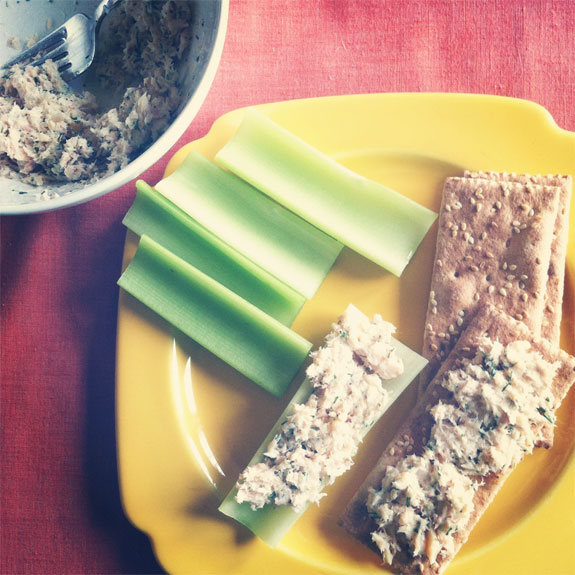 Lunch when I don't feel like making lunch: smoked trout salad with Ak-Mak and celery. (Follow me on Instagram: anjaliruth.)
What I've been reading:
The Mulberry's the Worst Berry There Ever Was! – Gilt Taste
The End of "Ethnic" Food – CHOW
Teeny Tiny Pig Overcomes His Fear of Stairs to Get to a Bowl of Delicious Oatmeal – Jezebel
Isn't It Always About the Dress? – Skinny By Monday (My pal Jen just started this blog about her amazing weight loss journey with Weight Watchers, told with lots of humor and sass.)
What I've been cooking:
Or not cooking: a lot of simple salads made with sliced heirloom tomatoes and the first summer peaches, drizzled with California Olive Ranch extra-virgin olive oil. Simple and good.
…and thinking about cooking:
Nobu's Fried Asparagus with Miso Dressing – Food52
Socca & Leek "Tart" with Herbed Almond Spread – Love & Lemons
{ 3 Comments }
{ Leave a Comment }