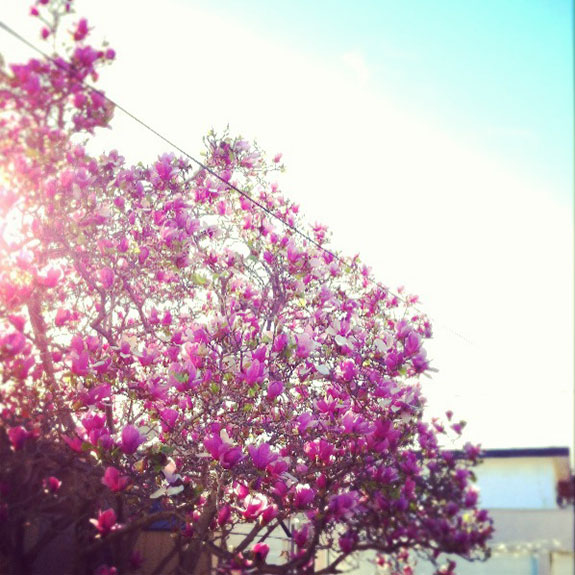 February in L.A.  Yup. (Follow me on Instagram: anjaliruth.)
What I've been reading:
Getting Into Your Exercise Groove – The New York Times
But a series of recent studies involving runners, walkers, metronomes and virtual reality curtains suggests that while the tug of physiological laziness is strong, it can be controlled, or at least tweaked, with some conscious effort — and perhaps your iPhone playlist.
The Lovely Hill: Where People Live Longer and Happier – The Atlantic
People who eat foods associated with a Mediterranean diet also experienced less negative emotions like being afraid, nervous, upset, irritable, scared, hostile, and distressed. The more people ate those foods that are more typically American — specifically, red meat, sweets, and fast food — the less of these positive emotions they felt.
Stone Age Stew? Soup Making May Be Older Than We'd Thought – NPR
Neanderthals, ancient human relatives that lived from around 200,000 to 28,000 years ago, would have needed boiling technology to render fat from animal bones to supplement their diet of lean meat, so that they could have avoided death by protein poisoning.
Betty on The Today Show! – Meet the Shannons
My friends Annie and Dan Shannon just came out with a book! Betty Goes Vegan is full of recipes for vegan comfort food and includes lots of fun stories from one of my favorite couples. And they were on The Today Show this week!
What I've been cooking (at The Kitchn):
Shaved Fennel, Roasted Tomato & Pistachio Salad with Creamy Yogurt Dressing 
Korean Chicken Sliders with Braised Kale & Kimchi
Roasted Feta Cheese with Fig-Thyme Compote
Creamy Dairy-Free Fish Chowder
…and thinking about cooking:
Mini Vegetarian Pot Pies – Flourishing Foodie
Lemon Curd Tart With Raw Coconut Crust – Whole Family Fare
{ Leave a Comment }