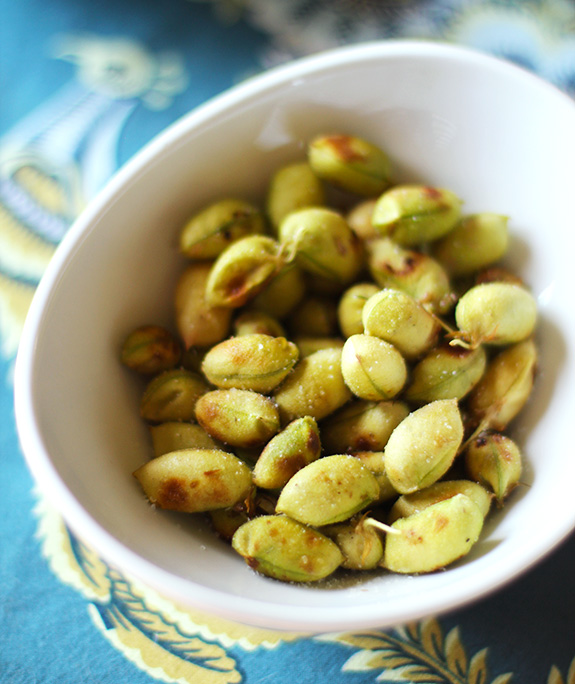 Last week our CSA box from Silver Lake Farms had an ingredient I've always wondered about, but hadn't yet cooked with: fresh garbanzo beans! Still attached to their stems and hidden away in pods, they are the young, chubby-cheeked version of the usual dried-up old chickpeas.
I had to eat one raw, just to see what it was like, and it reminded me of a fresh pea: sweet and a little starchy. I've heard they can be treated like edamame, steamed or boiled and eaten out of the pod with a sprinkling of salt, or shelled and whizzed into a green hummus, or sauteed and dressed with a vinaigrette.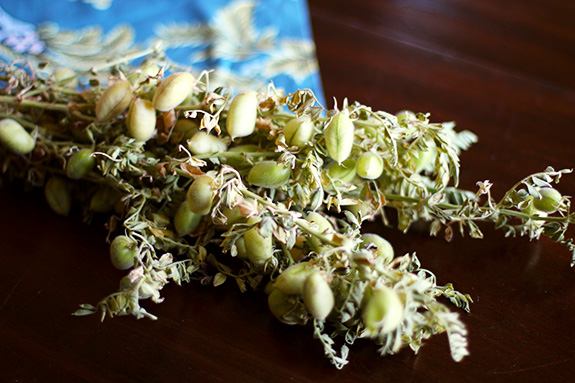 I decided to char the pods in a cast-iron skillet with oil and sea salt, and serve them in the pod as a finger food for a Saturday afternoon cocktail gathering that included Hilary and Alexi of Dawdling Darlings. I was running behind in my preparations, though, and didn't get as much of a char on the pods as I wanted, because they arrived and the dog was flipping out and I had to take the beans off the heat so I could rescue my guests.
Next time I'll keep the dog in the kitchen and let the garbanzos cook a little longer.
I'll also be more careful to pick out the very yellowed pods, as the beans inside are a little too dry and starchy for this preparation.
Despite those caveats, this is a dead-simple little snack that is as fun and tasty as edamame, but a lot more interesting.
• Get the recipe: Charred Garbanzos at New York Magazine
(Look for fresh garbanzo beans at farmers markets or Whole Foods.)
{ Leave a Comment }