For the last few years, I've felt like a lazy jerk for not composting. Or, to be more specific, for not separating my compostable trash and putting it in the green bin for the city of Los Angeles to compost. All I had to do was collect the scraps in a separate container, dump them in the green bin behind our apartment, and wheel the green bin to the curb every Tuesday night, and the city would cart it away to be turned into free compost for residents. But I never did it — until a week ago.
Somehow in that week, I've become fixated on how much I am now collecting in the compost bucket and it is a weird, happy source of pride. In case you hadn't noticed by my snapping dreamy photos of my kitchen trash and sharing them publicly.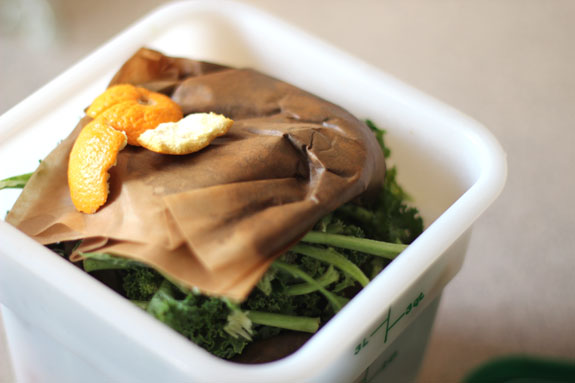 Anyway.
I realize now I was making the whole thing too complicated. I thought I had to get an attractive little compost bucket to keep on the counter and collect the scraps. But not-ugly compost buckets can be surprisingly pricey and are just not a fun thing to buy when you have an extra $30-$50 burning a hole in your apron pocket. I think I was also in denial about the fact that I didn't want a bucket permanently parked on my counter. I like a clear counter.
So I had a moment of revelation while reading Faith's roundup of compost buckets. She showed a covered Cambro — a sort of large, restaurant-grade Tupperware container — and suggested keeping it under a sink to collect scraps. I already own a few Cambros, so this solution was free and doesn't take up any counter space. Genius.
The Cambro I'm using holds 3.5 liters, which is 2-4 days worth of scraps, depending on how much I cook. Even in this unseasonable January heat, it doesn't stink and cleaning it out is as simple as giving it a scrub in the sink, or running it through the dishwasher if it ever gets really bad.
Best of all, I'm keeping 7-10 liters of trash from being thrown into a landfill every week. That's 520 liters a year! I can't remember now why I didn't start doing this sooner. Oh yeah, because I was a lazy jerk.
Now come sit next to me and look at these photos of my orange peels….
{ 5 Comments }
{ Leave a Comment }