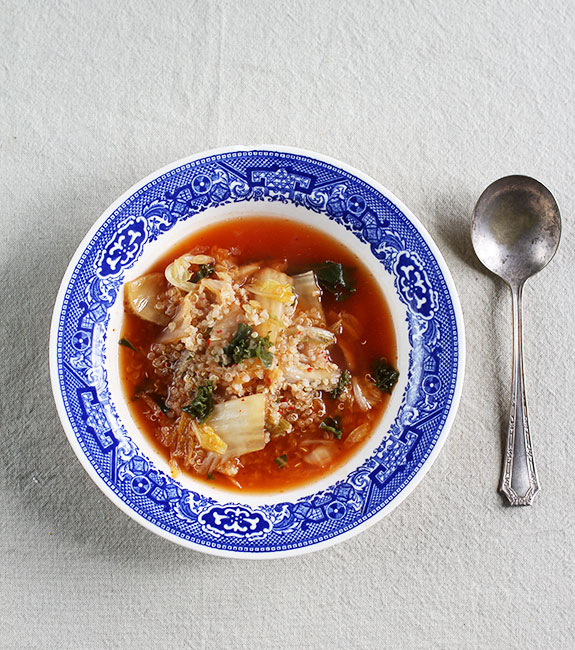 It is quite possible that every weekday lunch I ever ate throughout elementary school, junior high and high school included a sandwich. I'm trying to remember ever eating anything else, and I honestly cannot. It makes sense then that sandwiches are usually my last option for lunches, what I go for when nothing else is feasible, or when I'm racing out the door.
But even on a good day, I can't spend more than ten minutes assembling lunch. I usually try to portion out leftovers the night before, but there are many days when there aren't enough leftovers for lunch or I go out for dinner and am stuck the next day.
On those days, I rely on a few old favorites for lunch, a slowly-growing arsenal of satisfying, veggie-heavy lunches that come together in ten minutes or less. If I'm working from home, I have lunch on the table minutes after my stomach starts growling and if I'm headed to school, I pack everything up in containers to be eaten later in the afternoon.

Quick Lunch #1: Bean Dip + Raw Vegetables + Something Bread-y
Make a bean dip in a food processor. (Super-basic recipe: cooked beans, a little bean cooking liquid, lemon juice, a little olive oil and herbs, spices or garlic to taste). Cut up raw vegetables and eat with crackers or bread for dipping.
Ideas:
– Hummus, carrots and celery, toasted whole wheat pita
– Black bean dip, red bell pepper strips, whole grain tortilla
– White bean dip with rosemary, broccolini, crackers
Quick Lunch #2: Box Soup + Cooked Whole Grain + Greens + Protein
Confession: I always have box soup in the cupboard. I especially love Trader Joe's Roasted Red Pepper and Tomato soup, which doesn't have any weird ingredients and is delicious with grilled cheese sandwiches. I usually don't eat box soup plain, though; I typically doctor it up with fresh ingredients. Throw hardy greens like kale in at the beginning and delicate greens like baby spinach in at the end of cooking.
Ideas:
– Tomato soup, brown rice, baby spinach, poached egg
– Chicken broth or veggie broth, quinoa, kale, kimchi, tofu
– Canned lentil soup, barley, shredded cabbage (no need for extra protein — thanks, lentils!)
Quick Lunch #3: Canned Fish Salad + Raw Vegetables + Crackers
One of the easiest and tastiest ways to eat most canned fish is to mix it with mayo, fresh herbs and a little citrus juice. It's like tuna salad, but usually healthier, especially if you're using sardines or salmon. (Tip: go for the more mild boneless, skinless variety if you're put off by the strong taste of canned fish.)
Ideas:
– Smoked trout with lemon and dill, celery sticks, Ak-Mak crackers
– Sardines with lime and cilantro, avocado, mixed greens, baguette toasts
– Salmon with lemon and capers, lettuce cups, Ryvita crackers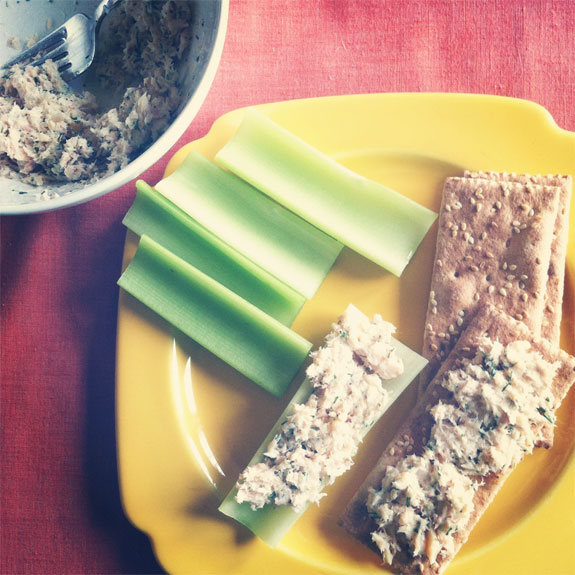 Want more quick lunch ideas? Head over to The Kitchn, where we are talking 10-minute lunches all week.
What are your favorite quick lunches?
{ Leave a Comment }